User

Gender

Male

Ideology

Neo-Conservative

Party

Republican Party

Religion

Christian-Catholic

Debates

526

Win/Tie/Loss Record

319-57-137

Win Ratio

69.96%

Percentile

99.99%

Elo

1,862
Lannan13 was a DDO member for 6 years as he came to the site on December 5th, 2011. He was awesome. Lannan13 has also made many Vice-Presidential runs when it came to DDO. In 2012, Lannan13 ran as Bossyburrito's VP, but were defeated. In 2013, he decided to give it another try as he ran with Kingdebator, but failed against TUF and Cody_Franklin.
From December of 2012 to the early Spring of 2013, Lannan13 formed a group known as the DDO Freemasons. He did this to "counter the DDO Eliete." Though no one knows who they were or what their secrete agenda was Lannan13 and a group of 5 members banned together to launch an attack. When the members Heinken and OberrHer left the site in March of 2013 Lannan13 announced that the War was over and that the DDO Freemasons won. The DDO Eliete still live on today in DDO folklore with the DDO Freemasons only to be remembered by the users that were in the organization.
At the time of writing, he has almost 862 'friends' on DDO, posted.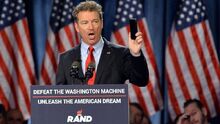 21,499 Forum Posts, has cast 3,817 votes topping the DDO Debate Voting Leaderboard, and voted on an astonishing 6525 Polls, meaning he is the top of the Polls Leaderboard in terms of votes. He also has 52 Debates Judged and has publicly announced on several occasions that he will happily vote on any debate. This of course assuming the ELO Restrictions aren't on.
He describes himself as being 'Very Patriotic' and "Very Loyal." He has a conservative ideology despite coming to the site 4 years ago as a Socialist. He has described many times that he has enjoyed the readings of Ayn Rand and Milton Friedman. He is currently supporting Rand Paul as the Presidential canidate. He has stated that, "I support Rand Paul, because of his open transparency and that I enjoy much of his economic policies and that he is fundamentally Libertarian and he isn't afraid to hurt your feelings if he thinks you're appart of the problem."
He has participated in a mixture of both serious and non-serious debates, varying from important issues, like the death penalty and assisted suicide, and 'troll' or 'joke' debates such as the debate 'The World V. Santa Claus'. He also debates on other interesting issues like that of Asteroid Mining and the secreats behind human nature.
He has many victories under his belt and many of them against notable opponents.
It was discovered on July 5, 2018 that Lannan had died.
Asteroid Mining in his 300th debate in a rematch against Ore_Ele.
Resolved: Assisted Suicide is morally Permissible against That1user.
Gun Control against TBR.
Life at Conception Act against Lexus.
God Exists against Mister_Man.
Atomic Bombing of Japan against Philocat.
Euthanasia vs. Wylted.
The Draft against UchihaMadara.
Idiot Republican vs. Idiot Democrat debate vs. Imabench.
Of his 357 debates, he's won 217. He has an Elo ranking of 1,850, and is in the 99.99% percentile.
Community content is available under
CC-BY-SA
unless otherwise noted.